Category Archives: Uncategorized
Tough day yesterday. But feeling much better this morning.
2.5 mile walk, mowed lawn and worked in the garden for about 2 hours. Feeling better, less bloated.
Hands still a bit shaky from the prednisone. Not sleeping well.
You know when you're over the hill when your mind makes a promise  that your body can't fill

Old Folks Boogie, Little Feat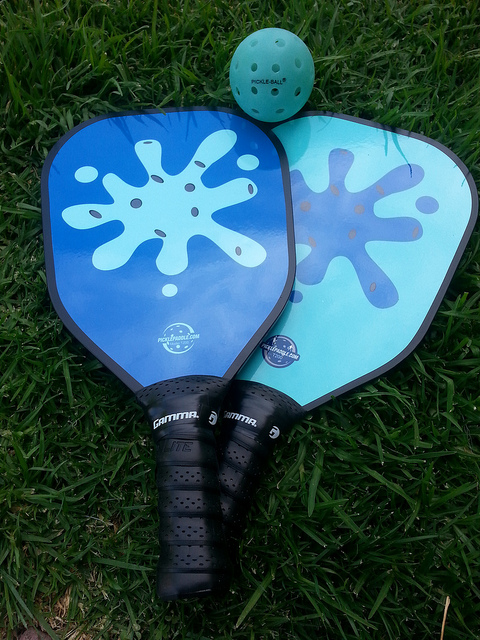 Today was my first experience with pickleball. It was also Becky's second day of being unemployed, but more about that later. Pickleball is a racquet sport played with a low net on a badminton court. The ball is similar to a wiffle ball, hollow, plastic and full of holes. If you've ever played the great American pastime, wiffle baseball, you know you can hit the snot out of a wiffle ball and it won't go very far. You also know that they do really weird things when spin is applied.
We played at the local YMCA, they have pickleball on the schedule three times a week. It's part of their AOA program. Active Older Adults. I'm definitely older. But I'm not very active, and I guess it depends on how you define "adult."
About 20 players showed up, ranging in age from, hell I don't know to I'm not sure. As you get older you lose your ability to judge people's ages. Any way, from old to older. But it was a fit crew and some of them could move around pretty well. There were two courts, so playing doubles we had eight players going at a time and everyone rotated in and out.
I haven't really tried to play any kind of sport since the year of the knee, so I was a little apprehensive about actually having to move quickly and even more scary, stop quickly. After one of my stumbling forays after a shot, I heard, "Remember the first rule, no point is worth a trip to the emergency room." No one ever said that when I was playing pickup basketball.
It went pretty well, Becky, of course, picked it up faster than I did. If you've played tennis, it takes awhile to get used to the fact that the ball just doesn't bounce. I swung over the top of it so many times it was insane. And I kept going all the way to the net to volley, which isn't permitted.
Now I'm suffering for my efforts. I hurt all over. It used to just be my knees now it's my hips and ankles and back and shoulder. It sucks to get old.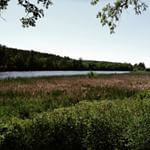 I'm sitting in a converted Barn situated on the Crow Wing River west of Brainard. It's an idyllic spot, the quite only occasionally interrupted by 50 caliber machine gun and howitzer fire. The other side of the river is Fort Ripley, a National Guard camp, and the boys are playing with their toys. I'm on one of those storied 'boys weekend up north' trips. It started as a fishing and golf trip, but has turned into mostly a drinking and golf trip. Since I neither drink or play golf,  I'm kind of the fifth wheel. I've spent the last two days in the solitude that I get most days working at home. But it's a pretty spot and I've been woodshedding on the guitar and doing some meditating.
Of course in these awful days of connectivity, I'm also ending up doing some work. As little as I can get away with, but work none the less. And of course it's around a big emergency technical problem that is beyond my pay grade. It's a good thing that I have a great support network, but it's just kind of a pain having to stay connected to monitor the progress, sooth the client and try to apply my feeble reasoning to the issue.
And then of course there's the issue of having that nagging voice in your head telling you to worry about the outcome. Taking full responsibility for the mess and not being able to give myself over to the moment. The meditation helps with that. In fact, I've been able to have extended periods of adolescent foolishness without the job even crossing my mind.
Tomorrow the boys aren't golfing so we'll have some extra time to spew stories and lies and think up ways to get into trouble. I believe that we are going to try to put our host's portable dock into the water and then move it 50 yards upstream to a new position. So five guys in their sixties in the river with a large metal construction, four of whom will certainly be inebriated to some extent and the fifth with really bad knees and crappy balance.
What could go wrong.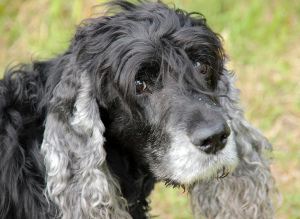 Can you teach an old dog new tricks? That's a question I've been asking myself a lot lately. I'm an old dog and I've been trying to learn new tricks. I retired from my soul sucking corporate job five years ago, with the intention of doing freelance work. I'm 65 years old, I think most people are winding down and looking at real retirement at that age. I tell people I'm semi-retired; my 401k got hit by a semi. Continue reading Old Dog New Tricks →
If you've been following this blog… wait, who am I kidding, no one follows this blog. If anyone was actually following this blog and you were that hypothetical person, you would know that I've been in a major productivity slump lately. My writing isn't so much blocked as it's embedded in concrete. Every time I sit down to write and manage to think of something to write about, my first conclusion is either "That's not something I want to share with the world," or "No one in the world would be the least bit interested in that."
I noticed awhile back that the word "I" shows up a lot in my posts. And I guess I concluded that was a bad thing. I decided I was going to write more about ideas and causes and art and all that important stuff. But then I came to the conclusion that I didn't really know enough about any of those things for anyone to care what I had to say. After all, no graduate degrees here. I guess that's the perfect recipe for concrete. Continue reading Writing about writing →
Walking with hand weights:
Distance: 2.93 mi
Average speed: 3.18
Hill: 5x