You know when you're over the hill when your mind makes a promise  that your body can't fill

Old Folks Boogie, Little Feat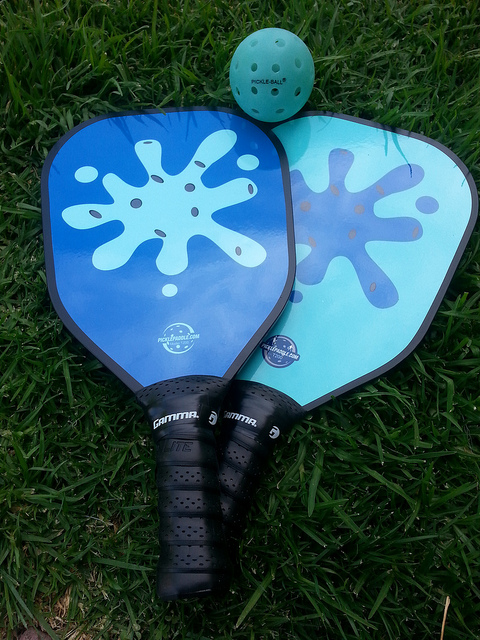 Today was my first experience with pickleball. It was also Becky's second day of being unemployed, but more about that later. Pickleball is a racquet sport played with a low net on a badminton court. The ball is similar to a wiffle ball, hollow, plastic and full of holes. If you've ever played the great American pastime, wiffle baseball, you know you can hit the snot out of a wiffle ball and it won't go very far. You also know that they do really weird things when spin is applied.
We played at the local YMCA, they have pickleball on the schedule three times a week. It's part of their AOA program. Active Older Adults. I'm definitely older. But I'm not very active, and I guess it depends on how you define "adult."
About 20 players showed up, ranging in age from, hell I don't know to I'm not sure. As you get older you lose your ability to judge people's ages. Any way, from old to older. But it was a fit crew and some of them could move around pretty well. There were two courts, so playing doubles we had eight players going at a time and everyone rotated in and out.
I haven't really tried to play any kind of sport since the year of the knee, so I was a little apprehensive about actually having to move quickly and even more scary, stop quickly. After one of my stumbling forays after a shot, I heard, "Remember the first rule, no point is worth a trip to the emergency room." No one ever said that when I was playing pickup basketball.
It went pretty well, Becky, of course, picked it up faster than I did. If you've played tennis, it takes awhile to get used to the fact that the ball just doesn't bounce. I swung over the top of it so many times it was insane. And I kept going all the way to the net to volley, which isn't permitted.
Now I'm suffering for my efforts. I hurt all over. It used to just be my knees now it's my hips and ankles and back and shoulder. It sucks to get old.