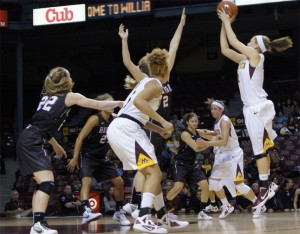 On Sunday, Reb and I attended the Golden Gophers Women's Basketball game against ninth ranked Ohio State. The Gophers were coming off a disappointing loss to Wisconsin in which they played terribly. The girls put forth a tremendous team effort and pulled off a huge upset. On the way home from the game we stopped at the grocery store and ran into Sid Hartman, the StarTribune's ancient sports columnist.  I couldn't resist asking him if he was going to write about the Gopher Women's victory over Ohio State.
"I doubt it," he replied, "there going to get crushed."
"No, the game's over they won."
"My readers don't care about women's basketball. That's why they only get 2000 fans."
"There had to be 5000 there today."
"Are you a big fan of women's basketball."
"I've had season tickets since the Whalen days."
He shrugs and walks away.
Sid is notoriously dismissive of women's sports. So are a lot of folks, I have a hard time finding people to go to the games with me. I have two season tickets and very good seats. I think it's the best sports entertainment value in town. Season tickets for $200 each. I couldn't afford season tickets to the Wolves or the Gopher men, but I know that I'll get my money's worth watching a season of college women's hoops.
Why do I like women's basketball? Well, first of all, I'm a basketball junkie. I watch pickup games at the Y, or games between rec league fourth graders. Although I never played much organized hoops (I was cut from the seventh grade team) I kept playing and in my 20s and 30s, I was a dedicated gym rat and playground baller. Maybe it's because the women's game is more like the game I played. I rarely played at the level where dunking was common and at 6'1″ I was big enough to be a forward, a position suited to my skill set.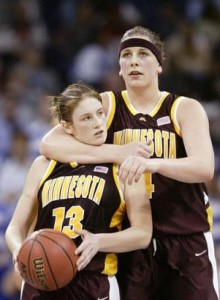 Most folks are awed by the slam dunk. It is impressive how high players can jump these days and the power with which they jam. But hell, if you're six-ten, you ought to be able to stuff it. What's more impressive to me is the passing that leads up to a dunk. Also, when the option of  leaving the floor fifteen feet from the basket and flying to the rim isn't open to you, you need to come up with some creative ways of beating the defenders between you and the bucket. Anyone who's seen Lindsay Whalen go to the hoop with her incredible array of ways to get a shot off inside and her unparalleled touch off the glass knows what I'm talking about. Plus if you enjoy watching the game played with teamwork and hustle, the women's game is where it's at.
I got into women's basketball because my daughters played and I coached them. I've been a fan of the Gophers since the glory years of Whalen and McCarville. I follow the new recruits and watch them progress. This might be just a perception, but I think the women show their emotions a little more on the court, and that's really fun to watch. Maybe that's just because I've become a fan. The best experiences in sports fandom are the ones that come from getting behind one team and really rooting. Lately I've had a hard time watching any sport that I wasn't emotionally invested in one of the teams, and the Minnesota sports scene hasn't given me much opportunity for that lately.
Who's in the Super Bowl again?