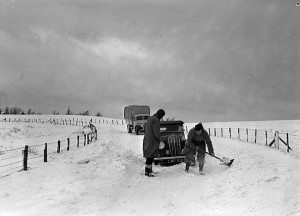 Variable precipitation consisting of rain, freezing rain, sleet, or snow.
I can take a nice fluffy snowfall. It's light and pristine, easy to shovel and get off the roads. It's not usually hard to drive on.
What I  hate is this. First it rains for an hour and then the rain starts to freeze, and then it turns to sleet, whatever that is, and then heavy, clumpy snow than seems to come down in pellets rather than flakes. If you are driving through this you find that you are getting more miles to the gallon of gas than you are of windshield washing fluid.
And then it turns cold. The layer of sodden slush freezes as hard as a rock. The roads become skating rinks and the commute becomes a destruction derby. If you are unfortunate enough to have left your car outside, it's covered with heavy snow that, once removed, reveals a layer of ice encasing the entire vehicle. You can't scrape it, it has to be chipped off. And then if you're really lucky, your locks are frozen shut, which is a good thing, because now you don't have to drive in it.
The real fun happens when the temperature drops fast and deep, into single digits or less, before the plows can get all of the muck removed. The surface of the roads are like a skating rink on the surface of the moon. Deep ruts and sharp ridges cause you wheels to spin and your car to bounce like a bizarre carnival ride.
If you're really lucky, the temperature stays below freezing for a couple of months, just to extend the fun. If you happen to get a dusting of snow on top of that ice, it becomes almost impossible to move. Any Minnesotan is familiar with the scream of spinning wheels as frustrated drivers race their engines while going nowhere.
We haven't had a really good wintry mix disaster yet this year, but cheer up, there's lots of winter left.