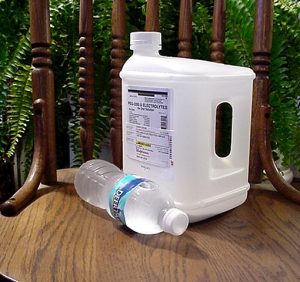 Colonoscopy day, everyone's favorite day. Mine was last week. I'm lucky I get to have one every five years instead of the recommended 10 for those of us over 50. Thanks again, Crohn's disease. There are few things easier to put off than having a camera up your ass. In fact I was about 3 years behind (no pun intended) schedule, so of course I was sure that there was some nasty malignancy brewing in there, undetected because of my procrastination.
For those of you who haven't yet had the pleasure, this might be hard to imagine, but the procedure itself isn't bad at all. The start out by shooting you up with Versed and Fentanyl. Which is to say they send you to Happyland. Besides you get to watch the live video of the journey up the poop chute, it's almost like science fiction.
No it's not the rubber tube being threaded up my ass that I dread. It's the prep. They want your colon to be squeaky clean when they make their entry. If you're going to go diving for treasure you want it to be in a clear spring fed river, not a murky Minnesota mud lake. So the day before you get to fast and flush. And by flush I mean drink a gallon of a foul-tasting liquid that has the most ironic product name in the universe, Golytly. There is nothing lyte about it's effects. As the instructions say, "Expect to experience diarrhea, stay near a toilet." Even a person like me, with forty plus years of Crohn's, will be shocked by the purgative effects of this intestinal rocket fuel.
After the fun part was over and it was time to move on to the procedure itself, I got an extra bonus dose of discomfort. It's become aware that I'm a difficult subject for I.V. poking. It's hard to find a usable vein in my skinny arms. It took three tries to get me hooked up. The first two nurses failed so they had to call in the top gun to do the job. Maybe they could have had the expert go first. Just sayin'.
This time around the captain of the anal explorer wasn't my usual G. I. doc, because we wanted to get in as soon as possible. Since my usual butt surfer is a guy not much younger than me, I was expecting a younger person, but when he showed up he looked like a clean-shaven Santa Claus. Maybe young people just aren't taking up anal exploration as a specialty anymore.
So the spelunking began, the camera went into the cavern, some polyps were found and clipped off and everything seemed to go just fine. I got the report the next day that the polyps were just from inflammation, they weren't malignant and would not become malignant. So good news. The bad news is that because there was active inflammation, they were unable to take biopsies for an assessment of the Crohn's disease progress. It's kind of funny how the report stated it. It said a follow-up would be required, but a couple of paragraphs down it said "This is an optional procedure." OK, I pick the "not doing it" option.
Tomorrow I have a follow-up appointment with Erin, the NP that I saw a month or so ago. She's going to give me the Humira pitch. I'm going to be a tough sell.
I'd love to hear suggestions for questions to ask about treatment options.